Fanatic of the B-Word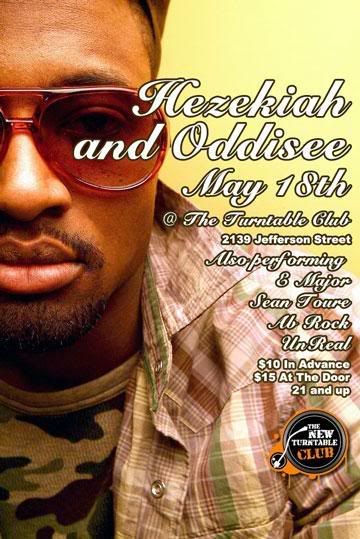 Last Friday was a chilly, noisy night in East Baltimore, as local knuckleheads set off fireworks in the vicinity of Johns Hopkins Hospital, perhaps excited about the arrival of Preakness weekend. But inside nearby hip-hop hot spot the New Turntable Club, it was as warm and friendly as ever, the kind of atmosphere you only get when half the people in the room appear to know each other.
Ab-Rock, the Style Warz alumnus whose stage presence was surprisingly laid-back for a battle-rap champ, kicked off the night with tracks from his album The Mid-Midlife Crisis. And in a bit of crate-digging synchronicity, Ab-Rock's "The 1ne" featured a sample of Denise Williams' cornball R&B classic "Silly," as did "Making a Fool" by the next performer, UnReal. Considering that the bill skewed toward the true-school, proudly underground hip-hop fan, UnReal might have misjudged his audience by opening his set with freestyles over jiggy radio hits such as "This Is Why I'm Hot" and "Money in the Bank." But once he turned to grittier original material like "Baltimore State of Mind," the crowd got behind his flashy, swaggering stage presence.
But both rappers–however good they were–should be happy they performed before Sean Toure. Having known of Toure primarily for his beatmaking skills, as displayed live on the air during WEAA 88.9′s Strictly Hip-Hop show, the audience was a little caught off-guard by his considerable skills as an MC as well as his onstage magnetism. As soon as he made his way to the front of the room, he commanded the space effortlessly, making everyone stand up and throw their hands in the air, something that almost every rapper tries to do and few actually accomplish. Every time you start to think you've heard everything worth hearing in Baltimore rap, someone like Toure is there to knock you on your ass.
E Major, the rapper who was known as Eyekon until about a year ago, was up next after a brief turntablism break from the DJ. He set the energy level high with his first song, rapping over the beat from the Diplomats' "I Really Mean It" and putting extra emphasis on the line "I'm well-rounded/ Critics claimin' I'm a backpacker, it's unfounded." If City Paper had ears, they'd be burning. And considering that this was just a couple of days after Labtekwon aired his feelings about using the "backpacker" label as a pejorative in hip-hop, it might be time to retire another B-word from the genre's vocabulary–word to Russell Simmons.
After four local MCs in a row, it was time for Baltimore to cede the stage to two touring acts as the night closed out. But neither Philly's Hezekiah nor Washington's Oddissee came from very far away, and the latter, a PG County native, still had Maryland unity on his side. Oddisee has produced tracks for DJ Jazzy Jeff and Wordsworth, but in the end it was his socially conscious rants about the gentrification spreading though his D.C. neighborhood, as well as the area around the Turntable Club, that hit home the most. You were even tempted to say that it was a pretty fun show–for a bunch of backpackers.